| | | |
| --- | --- | --- |
| | Rock Planet | |
Sun-Thu 09:00-02:00, Fri-Sat 09:00-03:00
| | | |
| --- | --- | --- |
| | Description | |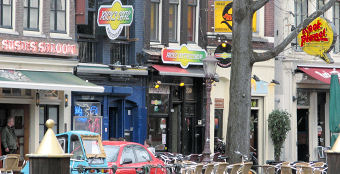 Susies
,
Rick's
,
Rick's CS
,
Smart & Herbal
,
Rock Planet
| | | |
| --- | --- | --- |
| | Comments | |

MacRotten from Netherlands. Sent 3 Dec 2008.
Best bar in Amsterdam by a mile! Good to have rock music bars around. Check it out when you are in town. Really hope the smoking ban in Amsterdam does not cause these type of bars to close. We have already lost the Black n White, we cannot afford to lose the Rock Planet. Save our Rock Planet! Go buy a drink. I'll be in 12th December for a good rockin day!



Gavin from Scotland. Sent 28 Apr 2008.
Just to say this is best place in the Dam if you like to rock, amazing selection of music! But we only asked for AC DC and they had every DVD in kown of, the place made my holiday as am not really a big smoker but they let the rest of my friends smoke, which is rare in a bar, bar staff were sound and even gave is free shots and I don't think they will forget the mental Killie ac dc fans in a while, if you like rock or indie this is the only place and cheap compared to some of the other central bars.



Kekker from England. Sent 24 Jan 2008.
This bar is the biz, cheap ale, smoke if you want to they're not arsed and the music is top drawer, they'll play pretty much anything you ask for provided it's rock! We've been to the Dam more times than I can remember and always end up here. If any of lose our way during the day/night we always say go to Rock Planet, one of the gang will be in there. Rock on.



Phil from Northern Ireland. Sent 14 Feb 2007.
Best bar in Amsterdam, music is awesome and people are great.



Zarah & Mike from England. Sent 10 Jan 2006.
Though they do not sell anything themselves they are happy for you to smoke your own, which is very cool and getting rarer. The music is fantastic if you like rock and all variants of, loud and lively with screens to watch the hundreds of DVD's that they have. The bartenders Floyd and Co were superb and really friendly, so much so that once in we didn't move for the rest of the evening. Felt really comfortable and as a rockabilly couple (the only ones there) Floyd, being of like mind himself, kept us entertained playing many rockin' cool tunes. Really want to big up this place, but also want to keep it a secret, so it stays small and friendly, but hey that's the price of success :)



Jack from Italy. Visited 10-13 Nov. Sent 18 Nov 2005.
For rockers it is for sure the best place to be (I'm not a rocker ;)). I bought there no weed but I had there a good time watching (I think) on full volume the Guns 'n' Roses DVD, drinking Beer + coffee with Sambuca and smoking some weed.



Frizz from England. Sent 28 Feb 2005.
If you're into rock music this place is brill. The staff have a vast collection of tapes and DVDs and are happy to play any selection you want. I asked because we where in Holland to play Golden Earring (Dutch band) and he put on an unplugged version of Radar Love which was excellent. Beer's cheap as well.


---
How to post comments
| | | |
| --- | --- | --- |
| | Rock Planet | |
Book your hotel room in Amsterdam here
Find bargains and help to support the Amsterdam Coffeeshop Directory.
I've been booking my hotel rooms this way for years (long before I established this affiliation). Now 100s of you have used the service too with total satisfaction. Click here to enter, select the range of dates you want to stay and the star-rating of hotel you require to get an instant list of available hotels and prices.
© Amsterdam Coffeeshop Directory: www.coffeeshopdirect.com | Contact: Lemming@coffeeshop.freeuk.com