| | | |
| --- | --- | --- |
| | Easy Going | |
www.coffeeshopeasygoing.nl (dead link)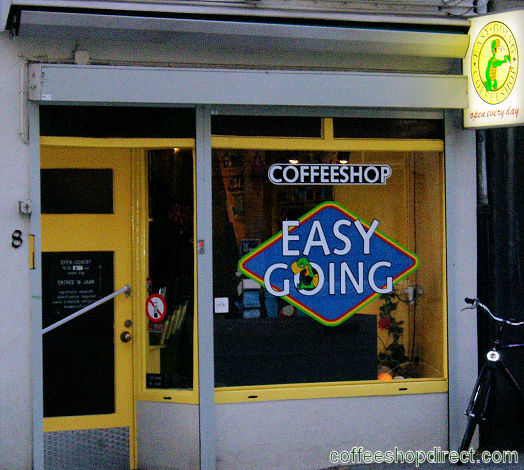 | | | |
| --- | --- | --- |
| | Comments | |

Neil from UK. Sent 31 Aug 2010.
Great shop, friendly people and v.nice Bud. 13 euro for 1 gram El Diablo, also on menu was NLK, Cheese Haze, Silver Haze, White Widow 9 euro, Super pollen, etc. Chilled out shop, they are all busy in Maastricht as the Belgians cross border daily to stock up! If you get there early no queue!



Enrico from Germany. Sent 18 May 2009.
ID show. This shop ripped me with two bags (2x 0,9 gr.)



Pino from Belgium. Sent 2 Oct 2007.
Zero-Zero for 9eur? See you around.



Elecman from Germany. Sent 29 Sep 2007.
Obviously you have to show your ID to enter this shop. At the first look, I think it's not the best place to chill in there - often a very long queue. They have a big menu with a great deal of weed-sorts, perhaps a bit too expensive, but the stuff is really amazing. I bought Gold Polm (5g / 39€), to smoke this with a bong ;) very good taste. Rating: 6 / 10



Jackal from Austria. Sent 10 Aug 2007.
Once I was just looking for breakfast in the morning, I slept in the car, which parked around the corner. I was just thinking about a cup of coffee and croissants, I didn't realized it's that kind of coffee-shop first. This happened at 9 o'clock in the morning. There is a plasma TV, with prices. I just bought some gramms of Black Afghan because it was so cheap (2,50Euro) and smoked it in a fresh plastic pipe downstairs. Nice high breakfast ;-) I got damn stoned and satisfied. Friendly people, "live weighing" clean shop. Nice pictures also.



Seanie from Ireland. Sent 21 May 2007.
Quite possibly the worst coffeeshop I've ever been to. Having lived in Amsterdam, the prices in Maastricht are way over priced 'n' the quality isn't great. Staff were seriously rude 'n' lied about a certain coffeeshop having been closed down. After walking for ages found it, 'n' it was open. Rude b*t*h ruined my smoke.



STH from USA. Sent 3 Feb 2007.
It's a good shop, right by the river. It essentially looks like a diner, with high tables and a couple booths. The types of weed are displayed on a pretty big TV screen. The area is kind of small, and gets crowded easily, but they have cool shirts and memorabilia. Overall it's nice, just too small. Rating: 6/10



Jelle from Belgium. Sent 25 Aug 2004.
It's a clean and tidy coffeeshop with friendly people in it. There is a list on a plasma TV and tables where you can sit at, you have good weed there, first I both with friend for 30 euro Big Bud, that was a good bag of weed, the second time I both happy brother for 8.50 euro /gram I both for 20 euro and I got 3 joints it was good weed but it disappears in 15 minutes, it's a quality weed shop!



Strozzapreti from Belgium. Sent 17 Jun 2004.
Very centrally located. Usually very crowded and the decor desperately needs updating. Very good weed (the "big bud" was among the strongest marijuana I have ever tasted) at reasonable prices. Stay away from the very average hashish. Go there to buy rather than sit and smoke.



Brian from USA.
Coffeeshop Easy Going had a very nice staff, a little small with a couple of booths and tables to sit at, but a pleasant experience, about 5 types of weed and 6 types of hash to choose from. Maastricht is truly a lovely city. I would suggest a journey there to anyone, even if just for the day.


| | | |
| --- | --- | --- |
| | Easy Going | |
Book your hotel room in Maastricht here
Find bargains and help to support the Amsterdam Coffeeshop Directory.
I've been booking my hotel rooms this way for years (long before I established this affiliation). Now 100s of you have used the service too with total satisfaction. Click here to enter, select the range of dates you want to stay and the star-rating of hotel you require to get an instant list of available hotels and prices.
© Amsterdam Coffeeshop Directory: www.coffeeshopdirect.com | Contact: Lemming@coffeeshop.freeuk.com