| | | |
| --- | --- | --- |
| | Balou | |
| | | |
| --- | --- | --- |
| | Description | |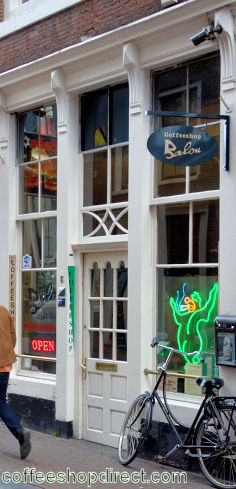 | | | |
| --- | --- | --- |
| | Comments | |

Godfrey Daniel from USA. Sent 22 Nov 2011.
My wife and I visited recently (September 2011) and found the staff as wonderful and the weed as good a value as visitors did six years earlier. They obligingly opened ten minutes early, not phased by our intent to smoke and run (to the Rembrandt Huis).



Butterflycaught from Austria. Sent 2 Nov 2011.
Our favourite coffeeshop in Amsterdam. I have returned here on every trip (5 and counting) since 1996, because the atmosphere is great and it's a light and friendly place to have a cup of tea, a smoke and maybe a game of chess! Drop in after a long day crawling the museums. Last time I visited there was also a shop selling mushrooms right across the road. Highly recommended!



Courtjester from USA. Visited 14 Dec 07. Sent 7 Mar 2008.
Sweet little shop on an alley between the Amstel and Rembrandtplein. Small menu, NYC Diesel (1.25g/E12.50) was the budtender's suggestion. I enjoyed the weed, the shop, and the courtesy. There are a number of nice shops in the area, but Balou deserves a look.



Newlyweds from USA. Sent 2 Nov 2007.
This place was our first stop, and we had to go back everyday. The staff were so funny and nice, and the stock was great. NY Diesel was not so bad and we got the White Widow the first day, again, very nice quality and a decent price. The best thing was early in the morning, there is no one there so you can sit and have a cup of tea and a joint, watch music videos and chat with the people behind the counter, a great way to start the day!



Zack from Canada. Sent 11 Aug 2007.
Cozy little place in Rembrandt Square with great staff and funky music. The menu is a little sparse but the product is good and the shop is much better than any others in the vicinity. Try the Power Plant weed if you want to get very stoned. 7/10



Dane from UK. Sent 16 Dec 2006.
A nice place to chill, with friendly staff who like to have a laugh, the menu is better for hash/outdoor weed lovers, they have a couple of skunks, and the place is refreshingly welcoming and non-commercial. If you are in Rembrantplein then go here and avoid some of the less-friendly spots nearby.



Stygian23 from USA. Sent 7 Sep 2006.
Small and just off the Rembrandtplein, Balou was my 'base' shop on my last trip to Amsterdam. The budtenders were extremely friendly (one, Fox, taught this American the proper way to roll a reverse joint). The buds were not exactly stellar, but they were good. They had Thai and Jamaican (both pretty mellow), and Silver Haze and Jack Herer (which were pretty damn good). The shop itself is small, consisting of two levels with room enough for maybe 16 people altogether. Definitely on my return list.



Stargirl from UK. Sent 6 Apr 2005.
I have been to twice - the first time on the last morning of my 3rd stay where I bought Blueberry and smoked 3 joints very quickly before getting on my plane! The guys were really friendly and chatty. The second time I went back purely to get their Blueberry but this time the atmosphere was different - the guys were sulky and indifferent, and the place was so fogged up we left after about 10 minutes!



Russell from Netherlands. Sent 29 Oct 2001.
Their joints (fl 7,50) are consistently perfectly made and potent, the weed and prices are pretty good and the music although variable is often interesting.


---
How to post comments

more comments ...

| | | |
| --- | --- | --- |
| | Balou | |
Book your hotel room in Amsterdam here
Find bargains and help to support the Amsterdam Coffeeshop Directory.
I've been booking my hotel rooms this way for years (long before I established this affiliation). Now 100s of you have used the service too with total satisfaction. Click here to enter, select the range of dates you want to stay and the star-rating of hotel you require to get an instant list of available hotels and prices.
© Amsterdam Coffeeshop Directory: www.coffeeshopdirect.com | Contact: Lemming@coffeeshop.freeuk.com